Fashion Styling and Image Making
Lucinda Chambers, Fashion Stylist
Learn how to develop your identity as a fashion stylist and create diverse forms of imagery for today's dynamic fashion industry.
Lucinda Chambers
Fashion Stylist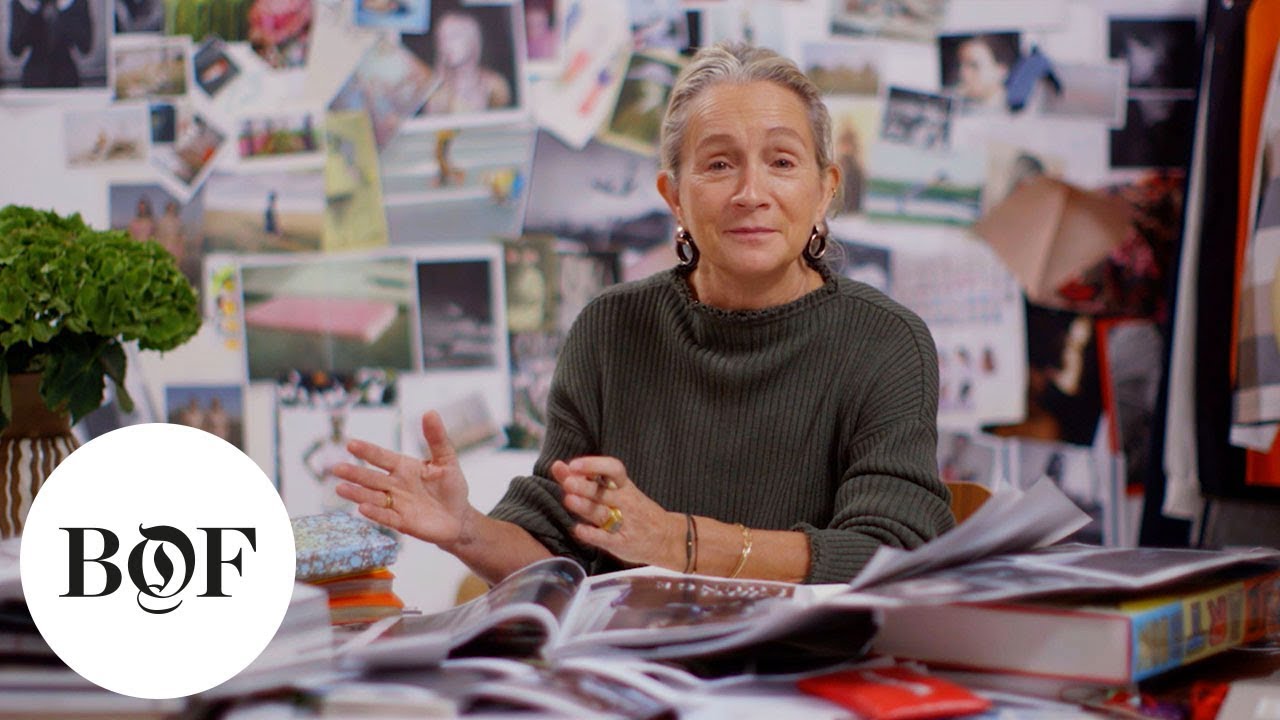 Your Tutor - Lucinda Chambers
For 36 years, Lucinda Chambers has been at the forefront of magazine publishing as fashion director of British Elle and British Vogue, where she held the position for 25 years and established long-lasting relationships with some of the world's leading photographers, including Patrick Demarchelier, Nick Knight and Paolo Roversi. Throughout her career, she has also worked closely with fashion houses such as Marni, Prada, Jil Sander and Chanel, consulting on collections and advertising. Most recently, she styled Pharrell Williams and Imaan Hammam for the December 2017 cover of US Vogue.
Testimonials
Despite it being an online masterclass, I felt like I was in the same room with her. I found it enlightening and highly encouraging. – Course graduate
Lucinda is an animated and insightful instructor – it's amazing to learn directly from someone with so much experience. – Course graduate
My skills are now sharpened and more refined. Plus the course hugely improved my communication with my creative team. – Course graduate
---
Who the course is for:
Professionals seeking to enhance their skillset to further their careers.
Freelance stylists looking to build their portfolio and influence.
Students who want to strengthen their academic education with an industry-specific course and real life examples.
What you will learn:
Obtain a comprehensive overview of the styling ecosystem.
Understand how styling is executed by top-tier creatives, publications and brands.
Gain invaluable insight of creative processes across platforms.
How you will learn:
10 hours of exclusive content, including 30 video tutorials from Lucinda Chambers.
Downloadable learning materials enable you to revisit key theories and concepts.
Engaging activities and tests to put your learning into practice.
Curriculum Summary
Questions on the curriculum or about buying multiple courses? Please contact education@businessoffashion.com
Course Overview
15 minutes
Lucinda Chambers has been at the forefront of fashion stylist for over 36 years, both as a fashion director at British Vogue and British Elle, and a consultant for Prada, Marni and Chanel. It all started by making earrings at art college, which sold in a London street market. This section introduces you to Lucinda and the lessons she's learnt along the way.
15 minutes
2x PDF
4x Video
1x Disqus module
1. The Role of the Stylist and the Skills You'll Need
1.3 hour
This chapter outlines the role and significance of a fashion stylist in the wider industry, as a cultural gatekeeper, storyteller, talent spotter and curators of ideas. Lucinda Chambers shares her view on the key skills you need to succeed in today's competitive industry.
1.3 hour
3x Video
7x PDF
3x Quiz
2i. What does a Fashion Stylist Do - Editorial, Shows & Celebrities
21 minutes
21 minutes
4x PDF
2x Quiz
4x Video
2ii. What Does a Fashion Stylist Do? - Brand Marketing & E-commerce
2.3 hours
Lucinda Chambers outlines the variety of roles that a stylist can undertake, with a detailed study of styling for Editorial, Fashion Shows, Celebrities, Advertising, Brand Marketing and E-Commerce.
This section includes exclusive behind-the-scenes imagery of shows and shoots, as well as an in-depth case study at the luxury E-Commerce studio of MatchesFashion.com
2.3 hours
6x PDF
1x Survey
4x Video
2x Quiz
3. Lights, Camera, Action: The Creative Team and the Shoot Process
1.7 hour
In this chapter Lucinda emphasises the importance of collaboration between the stylist and the creative team.
It includes interviews with Lucinda Chambers' key collaborators from across the fashion ecosystem including Shona Heath, Val Garland and Sam McKnight.
The chapter outlines in detail the processes behind shoots, and what needs to happen pre shoot and on-set to ensure a successful result.
1.7 hour
8x PDF
4x Quiz
4x Video
4. Trend-Spotting and the Creative Lightbulb Moment
1.5 hour
Lucinda outlines how to identify trends and ideas, and reveals her creative processes, explaining concept development from first idea to finished shoot via mood boards, clothes boards and storyboards.
1.5 hour
7x PDF
3x Quiz
3x Video
5. The Practicalities of Styling: What You Need to Know
1.3 hour
Here, Lucinda gives her guide to the rigour required in sourcing and selecting garments, honing the selection until it is the most direct embodiment of the original idea. The section includes a styling demonstration from Lucinda as well as a glimpse into the mythical 'stylist's kit'.
1.3 hour
3x Quiz
7x PDF
4x Video
1x Survey
6. Finding Your Voice in a Digital Age
1.3 hour
What does it mean to be a stylist in a digital-first world, where everybody has a voice and the opportunity to deliver across multiple platforms? Lucinda gives her advice on developing a creative identity, the importance of interning and assisting, and how to navigate the freelance market.
The chapter includes a Q&A with Alex Carl, freelance fashion stylist and fashion director of RIKA Magazine, and Molly Haylor, fashion assistant to Lucinda Chambers, who has previously been at US Vogue.
1.3 hour
8x PDF
6x Video
4x Quiz
7. A Look Back on Your Learning
5 minutes
Key lessons and final words of advice from Lucinda.
5 minutes
1x Video
1x Survey
3x PDF
1x Quiz
Bibliography
10 minutes
An appendix of further reading to aid your learning.
Glossary
30 minutes
Become fluent in Styling vocabulary. Fashion acronyms explained and technical terms decoded.
BoF Certification
Completing a BoF course demonstrates your dedication to enhance your fashion career.
Boost your CV
Add this achievement to your CV, which employers will recognise as a sign of a motivated and ambitious applicant.
Add to Linkedin
Demonstrate your updated professional knowledge by adding your BoF course certificate to your profile with the click of a button.
Job Alerts
Join BoF Careers and receive the latest jobs in fashion straight to your inbox, by setting up a job alert here.
FAQs
Do you have a question about BoF Education? If so, please refer to our FAQs below. If you need further support, please contact us at education@businessoffashion.com.
1. Eligibility, Enrolment and Registration
In order for us to deliver you the course securely, you do need to have a registered account with BoF. It will also help you to stay abreast of industry movements and current fashion affairs. You can register with our community here.
There is no age limit, though courses are self-directed so users must be able to take themselves through the process independently.
As many as you wish!
Not at the moment, but we are looking into this for the future.
Simple Select your course and follow steps to payment. Once you have purchased, you are immediately enrolled and have access to the course. You must be registered in order to buy a course. Register here.
2. Courses and Certification
E-learning is when all the course material is presented online for you. BoF courses allow you to learn at your own leisure and work studies into your own schedule.
No set skills are required, though we encourage beginners to enrol in our Masterclass courses and those with a foundation of experience and understanding to enrol in our Immersion courses.
Masterclass courses are entry-level, where no previous knowledge of the topic is required. Immersion is for those who are more educated in the topic and are looking to further develop their knowledge and understanding.
Each course varies, though you will learn through video tutorials, academic presentations, essential readings, learning activities, key references and fashion terms.
Once you have received your payment confirmation and completed enrolment, you will be able to access your course online. You can visit your course easily at any time — either access the course via the BoF website, where you will be directly rerouted to it, or use the email link you were sent after enrolling.
You are able to download the written course materials, but not the video tutorials.
At any stage you wish throughout the year — there are no limitations as all courses are self-directed to allow you to work around your schedules.
On completing the course, you will receive a BoF certificate that will be globally recognised by leading players in the industry. You will be able to download and share your certificate upon successful completion of your course.
If you do have questions please reach out to us education@businessoffashion.com.
There are no time limitation, so you can learn at your own leisure.
Courses vary in length. Please look at each course overview page in order to better understand timings. You can view our full range of courses here.
BoF has carefully selected industry leaders and experts to teach each different course, according to their knowledge and experience.
All courses are self-directed, but we are here to help should you need support. Reach out to us at education@businessoffashion.com.
We have designed these courses to be self-directed, so you can fit them around your schedules and work on them at any time, day or night.
Of course! We would encourage you to do so in order to develop your learnings and boost your skill set to stand out from others.
You will receive a BoF certificate which will be globally recognised by leading players in the industry.
You can view all available courses, or help influence future courses we produce here.
There are no exams in any of the courses. Instead, we assess your learnings with course relevant questions throughout each module, to make experience more useful.
3. Payment
Prices vary from course to course. Click here to view full range of courses and prices.
Payment is taken before you can begin your selected course.
Each course varies and some are led by industry leaders, though you will learn from video tutorials, academic presentations, essential reading, learning activities and fashion terms. BoF has also carefully selected industry leaders and experts to teach each different course, according to their knowledge and experience. You shall also be able to add your course certification to your Linkedin profile with a click of a button and of course include your level of achievement and course content on your CV.
After purchasing a course, we do not issue refunds. If you have further questions please reach out to us at education@businessoffashion.com.
All major credit and debit cards are accepted via STRIPE, our payment provider.
If you are within the UK or EU and require a VAT receipt please contact us at education@businessoffashion.com.