Masterclass
The Art and Science of Buying and Merchandising
Learn how to take the next step in your buying and merchandising career and what it takes to succeed in today's competitive job market.
Susanne Tide-Frater
Fashion Consultant (Independent) / Brand & Strategy Director (Farfetch)
Course Overview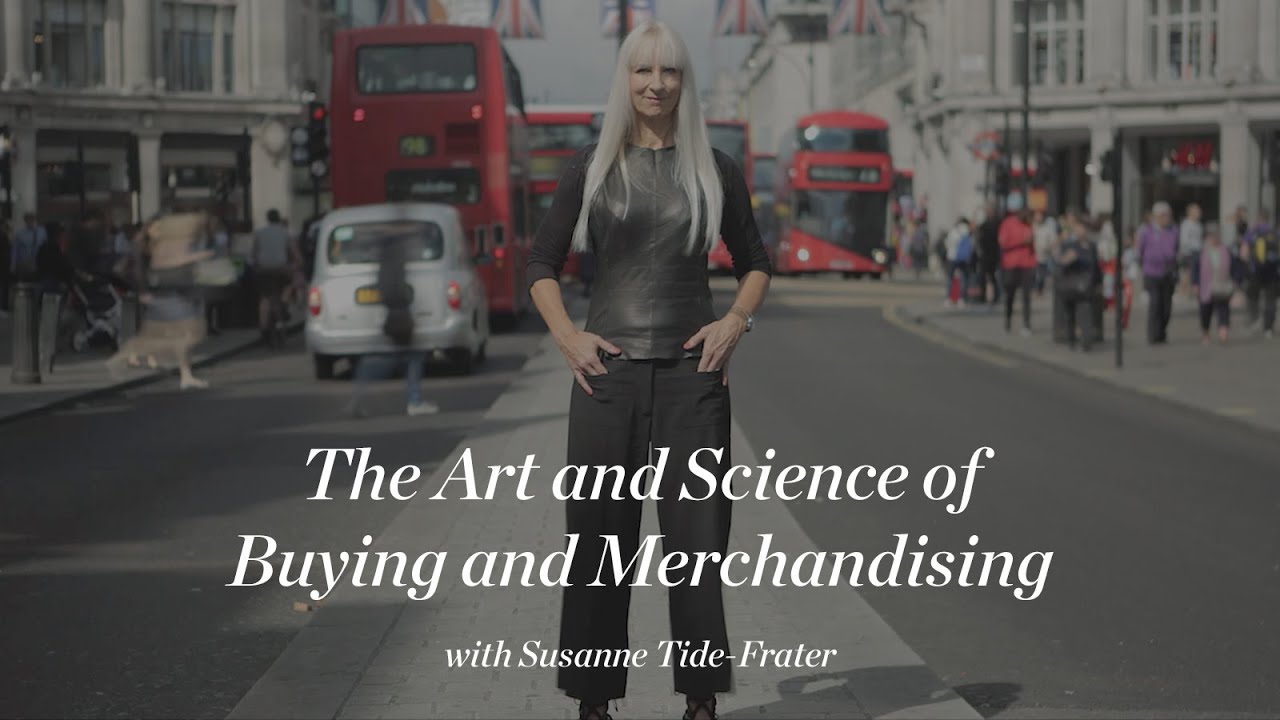 Take our self-directed course through the foundations of Buying and Merchandising, which will equip you with industry insights to help you apply for jobs, boost your CV or gain up-to-date knowledge to aid your career development. Once completed, you will receive BoF certification in The Art & Science of Buying & Merchandising. If you have further enquiries, please contact us at education@businessoffashion.com
---
Who is it For?
The head-start for those looking to develop a career Buying & Merchandising
Those in the early stages of their career who want to get ahead
Those looking to grow their own businesses
What's in the Course?
Video tutorials from Susanne Tide-Frater
Presentations outlining key theoretical frameworks within market context
Essential reading, references, role profiles and activities to solidify your knowledge
What will you Learn?
The difference between the roles and responsibilities of each function
Key stages of the buying cycle, critical path and how to operate around industry challenges
How internal and external forces challenge the decision making process from sourcing to delivery
Your Tutor - Susanne Tide-Frater
Tide-Frater has a wealth of experience in product strategy and brand development. Beginning her career in Paris focusing on trend development, she then moved to take on strategic creative roles at leading fashion companies such as Selfridges, Harrods, Victoria Beckham and digital disruptor Farfetch.
What Our Students Are Saying
I am happy I took the course and I feel I really learnt something that I use daily at work. The course puts a theoretical and practical framework around what it is we do when we work in fashion. David, Manager, Hong Kong
As a working professional within the world of fashion and dealing with retailers, buyers and merchandisers I felt it was great to understand my customer and how they really operate. I'm definitely going to use this towards my own job. Martha, Sales Executive, United States
The course was eye-opening at times. Very smooth, user friendly, well structured and easy to navigate. I learned many things and I greatly appreciated the readings and activities. The pricing was perfect. Sybil, Digital Communications, France
Curriculum Summary
The curriculum opens with a course overview and introduction to Susanne Tide-Frater. You shall then be guided through key modules which discuss buying and merchandising functions. In conclusion, a summary to reflect on learnings and a "fashion terms" glossary. For further detail please see below.
Course Overview
20 minutes
In the course overview the aim and structure are explained and main sections discussed within course are outlined. This is followed by an introduction to your tutor, before delving into further modules.
20 minutes
2x Video
2x Pdf
1. Art vs Science – Buying and Merchandising
1.3 hour
This module begins by explaining in depth what is meant by art vs science. The role profiles of the buyer and merchandiser are then presented.
1.3 hour
7x Pdf
3x Video
2x Quiz
2. Future vs Past – Trend Prediction and Planning
1.3 hour
This module begins by introducing the evolving nature and processes involved in the buying cycle, highlighting the purpose of trend forecasting and customer profiling.
1.3 hour
8x Pdf
4x Video
4x Quiz
3. Gut vs Numbers – Sourcing and Selection
1.3 hour
This module first examines the sourcing and selection process, where the influence of trade shows and fashion weeks are explored. This is followed by an investigation of product development, range planning and the importance of negotiation skills.
1.3 hour
9x Pdf
5x Video
5x Quiz
4. Depth vs Breadth – Allocation and Analysis
1 hour
This module concentrates on the key responsibilities of the merchandiser with respect to product allocation and delivery scheduling. The significance of the critical path is also discussed.
1 hour
7x Pdf
3x Video
3x Quiz
5. Inside vs Outside – Internal and External Challenges
1 hour
This penultimate section identifies the latest issues which buyers and merchandisers face in the current fashion environment. Topics such as CSR and data driven decision-making are presented.
1 hour
7x Pdf
3x Video
3x Quiz
6. Summary
20 minutes
Key takeaways from the course are reviewed and Susanne Tide-Frater offers personal career advice to those considering buying and/or merchandising.
20 minutes
4x Pdf
3x Video
1x Quiz
Glossary of Key Terms
30 minutes
A list of key fashion terms to help students further understand meaning behind each.
References
20 minutes
List of BoF references, which may also be interesting for students to digest at their own pace post completion if looking for further reading.
BoF Certification
Upon the successful completion of their selected BoF course, students will be granted access to their digital certification, which can be shared across all social networks and will identify their accomplishment to the international industry.
Join BoF Careers
Sign up to the largest global community of highly informed fashion professionals and access exclusive job opportunities. Create and receive personalised job alerts, quickly apply for jobs within the platform and track your applications, all in one place.
Boost your CV
Completing a BoF course demonstrates your dedication to enhance your fashion career. Include the course content and your level of achievement on your CV as employers actively seek candidates who demonstrate a commitment to knowledge development.
Add to Linkedin
Demonstrate your updated professional knowledge on LinkedIn by taking advantage of our seamless integration with LinkedIn - add your BoF course certification to your profile with the click of a button.
FAQs
Do you have a question about BoF Education? If so, please refer to our FAQs below. If you need further support, please contact us at education@businessoffashion.com.
1. Eligibility, Enrollment and Registration
In order for us to deliver you the course securely, you do need to have a registered account with BoF. It will also help you to stay abreast of industry movements and current fashion affairs. You can register with our community here.
There is no age limit, though courses are self-directed so users must be able to take themselves through the process independently.
As many as you wish!
Not at the moment, but we are looking into this for the future.
Simple Select your course and follow steps to payment. Once you have purchased, you are immediately enrolled and have access to the course. You must be registered in order to buy a course. Register here.
2. Courses and Certification
E-learning is when all the course material is presented online for you. BoF courses allow you to learn at your own leisure and work studies into your own schedule.
No set skills are required, though we encourage beginners to enroll in our Masterclass courses and those with a foundation of experience and understanding to enroll in our Immersion courses.
Masterclass courses are entry-level, where no previous knowledge of the topic is required. Immersion is for those who are more educated in the topic and are looking to further develop their knowledge and understanding.
Each course varies, though you will learn through video tutorials, academic presentations, essential readings, learning activities, key references and fashion terms.
Once you have received your payment confirmation and completed enrollment, you will be able to access your course online. You can visit your course easily at any time — either access the course via the BoF website, where you will be directly rerouted to it, or use the email link you were sent after enrolling.
You are able to download the written course materials, but not the video tutorials.
At any stage you wish throughout the year — there are no limitations as all courses are self-directed to allow you to work around your schedules.
On completing the course, you will receive a BoF certificate that will be globally recognised by leading players in the industry. You will be able to download and share your certificate upon successful completion of your course.
If you do have questions please reach out to us education@businessoffashion.com.
There are no time limitation, so you can learn at your own leisure.
Courses vary in length. Please look at each course overview page in order to better understand timings. You can view our full range of courses here.
BoF has carefully selected industry leaders and experts to teach each different course, according to their knowledge and experience.
All courses are self-directed, but we are here to help should you need support. Reach out to us at education@businessoffashion.com.
We have designed these courses to be self-directed, so you can fit them around your schedules and work on them at any time, day or night.
Of course! We would encourage you to do so in order to develop your learnings and boost your skill set to stand out from others.
You will receive a BoF certificate which will be globally recognised by leading players in the industry.
You can view all available courses, or help influence future courses we produce here.
There are no exams in any of the courses. Instead, we assess your learnings with course relevant questions throughout each module, to make experience more useful.
3. Payment
Prices vary from course to course. Click here to view full range of courses and prices.
Payment is taken before you can begin your selected course.
Each course varies and some are led by industry leaders, though you will learn from video tutorials, academic presentations, essential reading, learning activities and fashion terms. BoF has also carefully selected industry leaders and experts to teach each different course, according to their knowledge and experience. You shall also be able to add your course certification to your Linkedin profile with a click of a button and of course include your level of achievement and course content on your CV.
After purchasing a course, we do not issue refunds. If you have further questions please reach out to us at education@businessoffashion.com.
All major credit and debit cards are accepted via STRIPE, our payment provider.
If you are within the UK or EU and require a VAT receipt please contact us at education@businessoffashion.com.